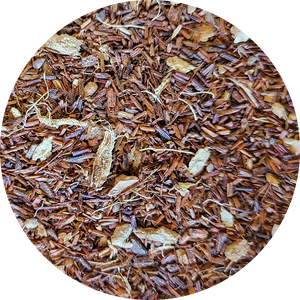 Rooibos Masala Chai
100% Natural
Caffeine Free
Our signature chai, is a caffeine-free twist to the traditional chai. Soothing rooibos combined with the spicy ingredients of masala chai gives this blend an exquisite sense of harmony and invokes warm feelings. The stimulating cinnamon spice aroma feels great to inhale. Undoubtedly the most relaxing hot beverage, the intricate tones of this blend are well brought out when made with warm milk (dairy or plant based).

Ingredients: Rooibos, Ginger, Cinnamon, Cardamom, Black & White Pepper, Clove & Nutmeg.
Benefits*:
Chai was originally developed as a form of Ayurvedic medicine and the chai spices were chosen particularly for their health benefits. These spices are considered to be calming, and energizing. Great for sore throat, cough and digestion.

Chai spices and rooibos are full of antiviral and antibacterial compounds and additionally most chai spices have immune system benefits. Studies suggest antioxidants in rooibos may help in inhibiting Type A and Type B influenza (flu).

Black pepper, cinnamon and clove contain different oils and substances that have been shown to adequately remove antibiotic resistant bacteria.
Clove is high in eugenol and has an array of flavonoids, which all reinforce its anti-inflammatory properties. It is used in dentistry as a pain killer. Clove is also known to destroy parasitic worms, improve peristalsis and increase hydrochloric acid in the stomach which helps the body to break down, digest and absorb nutrients. Black pepper and ginger are renowned for their pain relieving qualities.
Cinnamon helps keep the arteries healthy, manage blood sugar levels and lower cholesterol. Further, cinnamon is also found to improve cognitive function and memory.
According to Ayurveda, cardamom tea has been used after meals to aid in digestion. Cardamom contains a natural antibacterial quality that helps neutralize dental bacteria. Cardamom is also a source of many vitamins and minerals.
Ginger eases headaches from congestion and coughing and inhibits microorganisms that lead to infections. And is also well known as a digestive aid that relaxes and soothes the digestive tract. Cardamom and cinnamon also help soothe stomach cramps and relieve digestive relative issues.

General Brewing Instructions

(for an 8 oz cup):
Steep 1 tsp in freshly boiled water - ideal temp. 212°F - for 5 mins

Strain, sip and enjoy!
Our Tea Master recommendation - for an even better brew!:
Reduce the amount of water for steeping and top it off to 8 oz with milk (warm or cold both tastes great!)

Add honey or sugar to taste
Value Tip:
Remember, our teas can be steeped twice to "get more out of the bag!"
* These statements have been derived from various studies, have not been evaluated by the FDA, and are not intended to diagnose, treat, cure or prevent any disease.
Delicious, high quality tea
My Happy Place!
Love the Chai of a Kind blend. A good book and a cup of Chai, brings me great pleasure. So glad I was stopped at the Northville Farmer's Market and given a sample. I'm on my second bag. Many thanks!
My favorite chai
A good spicy chai. Tried this tea at the Northville farmer's market last summer and it's been my favorite ever since!
Excellent tea
This is a delicious, smooth tea. I love it and plan to order more!
Delicious Tea
I love the aroma of the tea and the flavor. It taste like premium quality tea