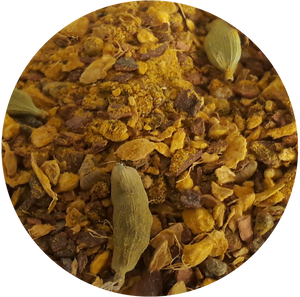 Organic Herbal Tisane



100% Natural & Organic
Caffeine Free
A delicious blend with an elaborate, delightful aroma of chai spices and turmeric. When simmered with milk, dairy or plant based, this spicy and robust latté has a rich creamy texture. An exquisite medley of aromas evolves from a number of Ayurvedic spices known to have a long history and reputation of benefiting human health. Add coconut milk to the brew and make it a dessert, mmm...YUMMY!
Ingredients: Organic Cinnamon, Organic Cardamom, Organic Ginger Root, Organic Clove, Organic Pepper & Organic Turmeric.
Benefits*:
Curcumin in turmeric helps to reduce inflammation and negate some of the performance shortfalls linked with exercise-induced muscle damage. Studies have shown that curcumin also prevents thickening of synovial fluid—the stuff that lubricates our joints and protects our cartilage. Improved inflammation control by curcumin translates to faster muscle recovery and enhanced functional capacity.
Black pepper (piperine) enhances the bioavailability of the superspice turmeric, making it easy for the body to absorb the curcumin.
Turmeric is a serious antiviral and offers protection against flu. Ginger is known to have antibiotic effects and can help bring down inflammation, clear congestion and support the immune system. It also contains sesquiterpenes which can target and kill the family of viruses that cause common cold. And eases headaches from congestion and coughing and inhibits microorganisms that lead to infections.
Conventionally used in Ayurvedic medicine for their anti-inflammatory properties, spices in this blend are also favored for improved immunity and healthier skin.

This nourishing beverage is rich in antioxidants, which help protect cells from damage, fight off disease and infections and contribute to overall health.
Cinnamon is a natural (and delicious!) performance intensifier and promotes bone and tissue health. Addition of cinnamon and cardamom brings a hint of sweetness to balance this otherwise spicy blend. Cardamom is a natural detox agent that has powerful antioxidant properties and improves liver health.
General Brewing Instructions (for an 8 oz cup):
Steep 1 tsp in freshly boiled water - ideal temp. 212°F - for 5 mins

Strain, sip and enjoy!
Our Tea Master recommendation - for an even better brew!:
Reduce the amount of water for steeping and top it off to 8 oz with milk (warm or cold both tastes great!)

For a richer taste, use coconut milk or almond milk

Add honey or sugar to taste
Value Tip:
Remember, our teas can be steeped twice to "get more out of the bag!"
* These statements have been derived from various studies, have not been evaluated by the FDA, and are not intended to diagnose, treat, cure or prevent any disease.
Fantastic tea!
Great tea and even better customer service! Thank you!
Calming and sweet
I throughly enjoying this tea with a bit of stevia in it. First time tea drinker and I am hooked on this and looking forward to more
Healthy tea !!
We tried the Golden Milk Elixir today; we just steeped in hot water
- tasted very good and had a very calming effect
- steeped twice and ended up having 2 cups of this healthy tea today
- glad to have a very healthy tea made from a mix of 6 awesome ingredients - thanks Uma for making this special tea mixture :-)
- can't wait to try all your other awesome teas !!!
Delicious, calming
I drink this tea right before bed, i make it with coconut milk it has ginger, turmeric which helps with inflammation in the body. Cardamom cinnamon all help to strengthen the immune system. This is one of my favorite, but of course all the teas have special benefits for your health. The smell of the tea relaxes me.
Kicks colds!
I got the golden elixir at the south Lyon farmers market. I've got it few times since. Whenever my throat or congestion starts to act up, I drink this tea and it opens up and soothes everything. It's wonderful.