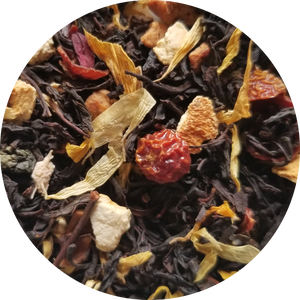 Black Tea Spice Blend

100% Natural

Medium Caffeine
Welcome Fall season with our delicious Pumpkin Spice Lattè that will warm up the body and mind. With premium tea and spices from the best gardens around the world this blend is sure to leave a lingering taste and make you wanting more!
Ingredients: Black tea, Apple+Orange+Rosehip pieces, Hibiscus+Calendula+Sunflower petals, Cinnamon, and Natural flavors

General Brewing Instructions (for an 8 oz cup):
Steep 1 tsp in freshly boiled water - ideal temp. 212°F - for 5 mins

Strain, sip and enjoy!
Our Tea Master recommendation - for an even better brew!:
Reduce the amount of water for steeping and top it off to 8 oz with warm milk


Add sugar to taste
Value Tip:
Remember, our teas can be steeped twice to "get more out of the bag!"
Even the kids like it!
The kids, and I, love the Pumpkin Spice Latte Tea...
Great fall treat!!
What a great taste, reminds me of my mom's pumpkin pie. Great with the donuts I brought home from the cider mill!!!