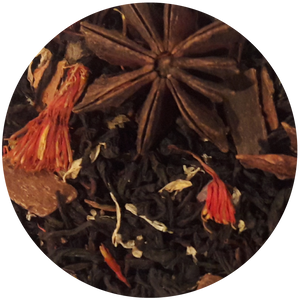 German Gingerbread Black Tea

100% Natural

Medium Caffeine
A luscious blend of black tea with ginger and cinnamon. An exotic blend with exquisite notes of German Gingerbread. Enjoy the season with this special treat!
Ingredients: Black Tea, Ginger, Cinnamon, Cocoa beans, Safflower petals, Camomile white flowers, Star Anise, and Natural flavors

General Brewing Instructions (for an 8 oz cup):
Steep 1 tsp in freshly boiled water - ideal temp. 212°F - for 5 mins

Strain, sip and enjoy!
Our Tea Master recommendation - for an even better brew:
Reduce the amount of water for steeping and top it off to 8 oz with warm milk


Add sugar to taste
Value Tip:
Remember, our teas can be steeped twice to "get more out of the bag!"
Delicious Treat
This is a delicious combination of tea and spices. It was the perfect drink on a winter day.