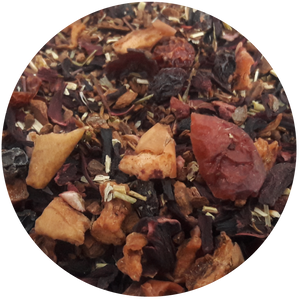 Organic Fruity Rooibos Blend
100% Natural & Organic
Caffeine Free
Berry Burst is a favorite of kids & adults alike! This mouthwatering herbal tea is rich in Vitamin C. Sweet Rooibos and bright fruits, the burgundy red infusion is a visual treat. Hibiscus adds a refreshing flavor to this unbelievably delicious blend.

Contains NO sugar, artificial flavors/colors or preservatives. Try this healthy choice compared to sugary, calorie-laden drinks and you will be glad you did!
Ingredients: Organic Rooibos, Organic Green Rooibos, Organic Hibiscus, Organic Rosehips, Organic Apple pieces, Organic Cranberry, Organic Cinnamon, Organic Blackberry leaves, Organic Calendula, Natural Cranberry, Raspberry & Cinnamon flavor.
Benefits*:
The naturally sweet, yet extremely nutritious blend houses organic rooibos as one of the significant ingredients. Rooibos has plentiful benefits from reducing cancer risks to boosting heart health. Rooibos gets these benefits due to its fundamental properties of being low in tannins, full of antioxidants and free from oxalic acid and caffeine.
Rooibos is known to promote fewer wrinkles and healthier weight management. Studies suggest antioxidants in rooibos may help in inhibiting Type A and Type B influenza (flu).

Coming in second is hibiscus. Originating in Asia, this powerful ingredient can help fight bacteria, and lower blood pressure and fat levels.
Addition of rosehips further boosts the immune system, fights off cold and flu germs and reduces inflammation and pain throughout the body.
Blackberry leaves can make your tummy go yummy by aiding in gastrointestinal inflammation.

General Brewing Instructions (for an 8 oz cup):
Steep 1 tsp in freshly boiled water - ideal temp. 212°F - for 5 mins

Strain, sip and enjoy!
Our Tea Master recommendation - for an even better brew!:
Tastes great when cold, if you prefer warm or iced go for it

Contains natural sweetness but adding just a tad of honey or sugar enhances the taste

Value Tip

:
Remember, our teas can be steeped twice to "get more out of the bag!"
* These statements have been derived from various studies, have not been evaluated by the FDA, and are not intended to diagnose, treat, cure or prevent any disease.
Absolutely delicious!
I tried this tea after purchasing it at the local farmers market, and it was delicious, as advertised! Definitely exceeded my already high expectations. Well-rounded flavor, and great for any time of day. Loved it!
Refreshing.
I loved the taste of the Berry Burst - it was decadent.
Berry Burst Tea
Love this tea. So refreshing and tasty!!
Ordering more. Excellent hot and cold.
Thank you for making this blend.
Delicious and on time
Fruit was fresh and delivered as requested.