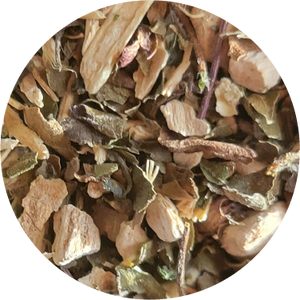 Organic Ashwagandha Tulsi Blend



100% Natural & Organic

Caffeine-free
An organic herbal blend that is delicate and soothing. A crisp brew that is very refreshing. Blend of Ayurvedic herbs that are known for their ability to modulate stress and anxiety, thus improving hormonal balance. Also known to ease digestion, improve sleep quality, enhance cognitive function and overall wellness.

Ingredients: Organic Ashwagandha, Organic Ginger, Organic Tulsi (Holy Basil), Organic Nettle, Organic Lemon Balm, Organic Sage.
General Brewing Instructions

(for an 8 oz cup):
Steep 1 tsp in freshly boiled water - ideal temp. 212°F - for 7 mins

Strain, sip and enjoy!
* These statements have been derived from various studies, have not been evaluated by the FDA, and are not intended to diagnose, treat, cure or prevent any disease.