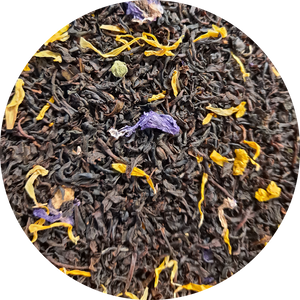 Vanilla Flavored Black Tea



100% Natural
Medium Caffeine
Fresh aroma makes you believe you just walked into a bakery! Delicious Ceylon black tea with a sweet nutty finish accentuated by strong Madagascar vanilla flavor.

Ingredients: Black tea, Mallow + Calendula + Sunflower petals, and Natural flavors.
General Brewing Instructions

(for an 8 oz cup):
Steep 1 tsp in freshly boiled water - ideal temp. 212°F - for 4-5 mins

Strain, sip and enjoy!
* These statements have been derived from various studies, have not been evaluated by the FDA, and are not intended to diagnose, treat, cure or prevent any disease.