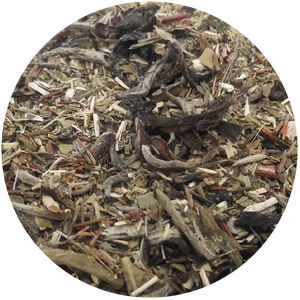 Organic Tea Blend

100% Natural & Organic
Low Caffeine

This super blend is an exotic organic blend of several luxury teas with abundant goodness. A premium ultra rich blend of Silver Needle White tea, Ceylon Green tea, Green Rooibos and Yerba Maté makes this a powerhouse of antioxidants.
Pale green with bright highlights, this refreshing concoction invites with enticing grassy overtones balanced by a mild, yet assertive astringency. This earthy tea has a lovely, lingering herbal flavor, with an outstanding green tea profile.
Ingredients: Organic Green Tea, Organic White Tea, Organic Green Rooibos, Organic roasted Yerba Maté, Organic Green Yerba Maté.
Benefits*:
A "Royal Fusion" of the choicest ingredients in this blend aids healthy weight loss by burning fat effectively, reducing appetite and boosting metabolism. Research has shown that both green tea and Yerba Maté are very instrumental in reducing abdominal fat. Antioxidants in white tea further help increase the rate of fat breakdown in the body. Studies also suggest that the rich polyphenol content in green rooibos tea suppresses fat accumulation and boosts metabolism thus promoting healthy weight in individuals.
Research shows drinking tea with Yerba Maté right before exercise, burns more fat during moderate-intensity exercise. A higher reliance on fat, for fuel during exercise, spares the carb reserves for critical high-intensity moments, such as cycling up a hill or sprinting towards the finish line. This translates into better sports performance. It also improves muscle contractions and reduces fatigue, all of which contribute to better physical performance.
Stress and anxiety levels could vastly be reduced by the amino acid theanine which is a natural supplement in white tea and by the antioxidant aspalathin in green rooibos.
Antioxidants are important for human health since they stop free radicals (which are the cause for diseases and ailments in the body) from damaging the cells. Silver Needle White tea and Rooibos have abundance of antioxidants and Green rooibos has nearly double the amount of antioxidants compared to its red counterpart. And Green tea is not processed much before it reaches your cup, so it's rich in catechins, which are antioxidants that prevent cell damage.
Antioxidants in green tea and Yerba Maté help reduce congestion and cough, boost immunity and keep common cold and flu at bay. Yerba Maté also provides vitamin C and Zinc which are essential for warding off cold and flu.
Yerba Maté contains seven out of nine essential amino acids, in addition to nearly every vitamin and mineral a human body needs. Yerba Maté is an antioxidant powerhouse that contains many beneficial plant nutrients. Thanks to its caffeine content, Yerba Maté increases the energy levels and boosts mental focus.
General Brewing Instructions (for an 8 oz cup):
Steep 1 tsp in fresh hot (not boiling) water - ideal temp. 180°F - for 2 mins

Strain, sip and enjoy!

If you prefer a stronger brew, increase the quantity of tea leaves used. DO NOT use water hotter than 180°F, that will scorch the leaves producing a bitter, astringent taste. Best way to ensure is to heat water only until column of steady steam rises from surface or to boil the water and let it sit for 3 mins before steeping.
Our Tea Master recommendation - for an even better brew!:
Add a few drops of lemon for a refreshing flavor (warm or cold both tastes great!)

Add honey to taste
Value Tip:
Remember, our Royal Fusion blend can be steeped 3 times to "get more out of the bag!"
* These statements have been derived from various studies, have not been evaluated by the FDA, and are not intended to diagnose, treat, cure or prevent any disease.
Subtle, light flavor
I enjoy this tea when I want a nice warm green tea taste
Royal Fusion
This tea is amazing! Such a nice blend of flavors with every sip. Thank you DeliTeacious!
Very tasty combination
The teas combined in this mixture have a pleasant mild flavor and packed with good health support!
We love the Royal Fusion blend!