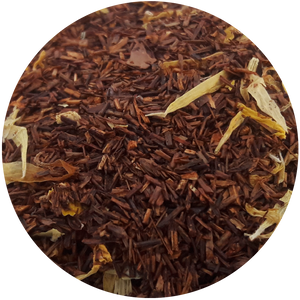 Chocolate Rooibos Blend



100% Natural
Caffeine-free
This magnificently rich Cederberg Rooibos tea blend is known for its herbaceous character and long smooth finish. An unique blend that combines the benefits of Rooibos with the delightful flavor of chocolate and caramel.
Ingredients: Rooibos, Cacao bean pieces, Calendula & Sunflower petals, and Natural flavors.
Benefits*:
In this chocolatey goodness, you get to reap the benefits of rooibos. And the taste of chocolate milk!!

Rooibos enhances energy levels but unlike caffeine, it doesn't cause hyperactivity. In fact, it fights insomnia and boosts the immune system making this wellness formula a great beverage for children. Studies suggest antioxidants in rooibos may help in inhibiting Type A and Type B influenza (flu).

Rooibos prevents allergies in young children and adults and is also great to use after sports activities to refuel the body.
This zero-calorie blend fights obesity by stopping the formation of fat cells and speeding up their metabolism, thus promoting healthier weight management.
Now the benefits of cacao. Yes, there are many benefits to the ingredient found in chocolate! Cacao bean has more calcium than cow's milk and can aid in fighting problems like depression, stress, and cardiac issues due to it's housing of iron, magnesium, and other antioxidants.
The calendula and sunflower petals act as anti-inflammatory agents and can help with muscle spasms and are known to reduce fever. Additionally, they give a natural sweetness to this sugar-free blend.
General Brewing Instructions (for an 8 oz cup):
Steep 1 tsp in freshly boiled water - ideal temp. 212°F - for 5 mins

Strain, sip and enjoy!
Our Tea Master recommendation - for an even better brew:
Reduce the amount of water for steeping and top it off to 8 oz with milk (warm or cold both tastes great!)

Add honey or sugar to taste

Tastes better than chocolate milk but with the benefits of Rooibos!
Value Tip:
Remember, our teas can be steeped twice to "get more out of the bag!"
* These statements have been derived from various studies, have not been evaluated by the FDA, and are not intended to diagnose, treat, cure or prevent any disease.
Delicious
I've tried so many "chocolate" teas that arr just not. This one is not just chocolate, it is delicious. I need to buy more already!
Heaven for Cacao lovers!
This is a wonderful, rooibos tea, with my all time favorite...ground cacao. Whoever blends these teas is SO good at it; not only for taste, but for health. The teas I've tried from here are out of this world! Perfect blending!
Choco Delight Tea
This tea is so delicious. It has become my new favorite! It will replace hot chocolate for me during the winter months. I love the aroma as much as the taste.😊
Got a chance to try their chocolate tea. Absolutely delicious. Definitely will be using it to satisfy sweet tooth cravings during my next competition prep
This tea is delicious! I've been drinking the chocolate lately. Yummy!