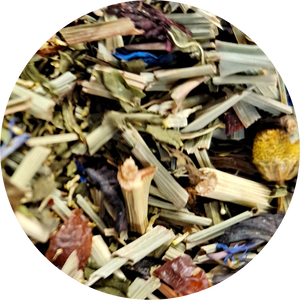 Lemongrass Chamomile Blend



100% Natural
Caffeine-free
A relaxing stress buster. Zesty freshness of lemongrass is a perfect complement to the calming chamomile. Heavenly blend of choicest soothing herbs with an exceptionally comforting aroma. Naturally sweet with subtle lemon notes.

Ingredients: Lemongrass, Peppermint, Chamomile, Rosehip, Spearmint, Valerian root, Hibiscus, Cornflower petals, and Natural flavors.
General Brewing Instructions

(for an 8 oz cup):
Steep 1 tsp in freshly boiled water - ideal temp. 212°F - for 4-5 mins

Strain, sip and enjoy!
* These statements have been derived from various studies, have not been evaluated by the FDA, and are not intended to diagnose, treat, cure or prevent any disease.
Awesomely delicious
This is a perfect blend with a nice aroma and soothing taste.