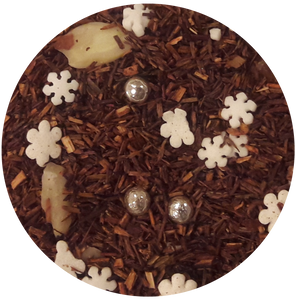 Rooibos Blend
Caffeine Free
What better time to indulge! This blend of luxury Rooibos with beautiful snowflake candy is a visual treat, a blend meant to delight your senses!
Ingredients: Rooibos, Papaya pieces, Candy (icing sugar, modified corn starch, corn starch, fractionated palm kernel oil, cellulose gum, soy lecithin, vanillin, polysorbate 60, confectioner's glaze, sugar, wheat starch, maltodextrin, gum arabic, shellac, colorings), Almond pieces, and Natural flavors

CONTAINS: Almonds, Soy & Wheat starch

General Brewing Instructions (for an 8 oz cup):
Steep 1 tsp in freshly boiled water - ideal temp. 212°F - for 5 mins

Strain, sip and enjoy!
Our Tea Master recommendation - for an even better brew:
Reduce the amount of water for steeping and top it off to 8 oz with milk (warm tastes great!)

Add honey or sugar to taste
Value Tip:
Remember, our teas can be steeped twice to "get more out of the bag!"