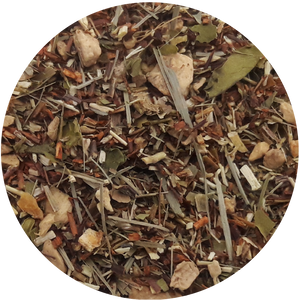 Organic Moringa Citrus Tea
100% Natural & Organic
Caffeine Free
Full bodied tropical tea with lively notes of ginger and citrus. The tart tanginess of orange peel and lemongrass is perfectly balanced by the heat and flavor of ginger in this delightful infusion. And the superherb Moringa brings a myriad of health benefits to this robust blend. Rooibos, both green and red, gives this caffeine-free blend a significantly smooth and sweet flavor.
Ingredients: Organic Green Rooibos, Organic Rooibos, Organic Orange Peel, Organic Lemongrass, Organic Ginger Root, Organic Moringa, Natural Lime & Orange flavor.
Benefits*:
True to its name, this blend is a "Panacea", meaning "cure all" or "universal medicine".
Consumption of this tea before exercise reduces muscle pain due to the anti-inflammatory nature of ginger. Orange peel in this blend further reduces chronic inflammation in the body.
Ginger, lemongrass and moringa boost overall immunity due to their strong antimicrobial and antifungal properties, thus helping to prevent and cure bacterial infections in the colon, stomach, urinary tract and respiratory system.
Moringa is a great source of brain-enriching ingredients, life-affirming antioxidants, essential proteins, beta carotene, iron and riboflavin and has earned its status of a nutrient powerhouse.
This blend is rich in antioxidants, low in tannins, owing to the green and red rooibos and has numerous heart health benefits. Ginger and the antioxidant aspalathin in rooibos help regulate blood sugar, thus preventing onset of type 2 diabetes.
Ginger is one of the top-selling herbs in the market, and deservedly so. It is used to treat various types of stomach ailments and aids in digestion. It is known for its anti-inflammatory, antioxidant and anti-cancer properties and is of great benefit to people with arthritis.
Ginger in this blend eases headaches from congestion and coughing due to common cold and flu and inhibits microorganisms that lead to infections. Studies suggest antioxidants in rooibos may help in inhibiting Type A and Type B influenza (flu).
Lemongrass acts as a diuretic and flushes toxins and waste out of the body thus improving kidney, spleen and liver functioning.

Rich in folic acid, vitamins A, B1, B5, B6, C & E, potassium, zinc, calcium, iron, manganese, copper and magnesium.
General Brewing Instructions (for an 8 oz cup):
Steep 1 tsp in freshly boiled water - ideal temp. 212°F - for 5 mins

Strain, sip and enjoy!
Our Tea Master recommendation - for an even better brew:
Try it warm on cold days. Or cold on warm days!

Add honey to taste
Value Tip:
Remember, our teas can be steeped twice to "get more out of the bag!"
* These statements have been derived from various studies, have not been evaluated by the FDA, and are not intended to diagnose, treat, cure or prevent any disease.
Awesome citrus treat
Enjoyed Panacea citringa ❤️❤️ we tried with honey - was perfect for the rainy day
perfect tea
This is the most delicious tea hitting all the right "notes". Naturally sweet and delicious
Delicious!
This tea is delicious, the aroma is lively and comforting at the same time.
Fabulous teas
Love the citrus notes in this tea and love this company.