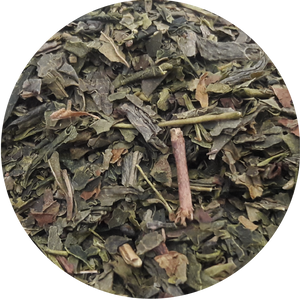 Organic Green Tea + Mint

100% Natural & Organic
Low Caffeine
This premium blend combines top quality Sencha green tea and mint leaves resulting in a cupful of goodness that Sencha is known for, with the refreshing coolness of mint. The rich taste of this green tea blend is sure to stand out from other green teas. Sip it and see for yourself!
Ingredients: Organic Green Tea & Organic Peppermint leaves
Benefits*:
Our Peppermint Sencha blend is as simple as it gets! While having just two ingredients, this tea is loaded with benefits.
Organic green tea is known for its anti-aging properties. It can improve cognitive abilities and help prevent diabetes, cancer and cardiac diseases. It further aids in weight loss. This blend is filled with antioxidants and anti-inflammatory agents to keep the body limber. Fun fact: Green tea can also help with bad breath!
Although you may think of peppermint as the sugar cane from the holidays, there are actually benefits-a-galore! Peppermint leaves can help with digestion, aid with sinuses, improve overall energy and relieve headaches.
Antimicrobial in nature, peppermint fights off common cold while the green tea gives a gentle energy boost to stay alert and focused when sick. Antioxidants in green tea help reduce congestion and cough, boost the immune system and keep common cold and flu at bay. Menthol in peppermint is a natural decongestant and helps breathe easily.
Kick back and relax with our Peppermint Sencha after a long day's worth of hard work!
General Brewing Instructions

(for an 8 oz cup):
Steep 1 tsp in fresh hot (not boiling) water - ideal temp. 180°F - for 2 mins

Strain, sip and enjoy!

Add honey to taste

If you prefer a stronger brew, increase the quantity of tea leaves used. DO NOT use water hotter than 180°F, that will scorch the leaves producing a bitter, astringent taste. Best way to ensure is to heat water only until column of steady steam rises from surface or to boil the water and let it sit for 3 mins before steeping.
Value Tip

:
Remember, our teas can be steeped twice to "get more out of the bag!"
* These statements have been derived from various studies, have not been evaluated by the FDA, and are not intended to diagnose, treat, cure or prevent any disease.
Lovely!
An excellent brew! I prefer a slightly sweet tea (with honey), but I found this tea to be refreshing all by itself. An overview of the tea and its benefits is a bonus; thank you much for the information! Well done!
One Word "Delicious"
A fantastic tea blend to start the day. Definitely on the reorder list. Great service, fast delivery