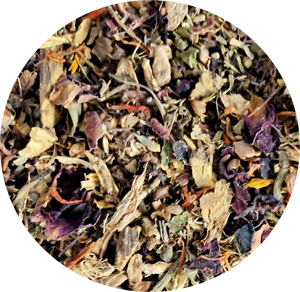 Ginger Tulsi Blend



100% Natural
Caffeine-free
Thirst quenching and soothing on the throat. Amazing aroma, refreshing energy, delicious combination of spice and sweetness. A tasty herbal combination with a lovely mild flavor. Tulsi (Holy Basil) is core to the traditional Indian Ayurvedic medicine. Rejuvenates, aids digestive system, promotes weight loss and is a detoxifying herb.

Ingredients: Ginger, Licorice, Tulsi (Holy Basil), Dandelion leaves, Burdock root, Rose petals, Elderflowers, Safflower petals, and Natural flavors.
General Brewing Instructions

(for an 8 oz cup):
Steep 1 tsp in freshly boiled water - ideal temp. 212°F - for 4-5 mins

Strain, sip and enjoy!
* These statements have been derived from various studies, have not been evaluated by the FDA, and are not intended to diagnose, treat, cure or prevent any disease.